Photo credit: Erin McKay, CCCNRD
Outdoor burning is a complicated matter. Knowing who, what, when, and where can leave anyone asking why? There are four levels of authority having jurisdiction over outdoor burning in our district: Federal, State, County and Local. While the State and Federal agencies are responsible for specific types of burn permits and restrictions, we are the organization called to put your fire out. Burning, from camp fires to agricultural burns can be conducted in a manner that minimizes risk to public health as well as setting ablaze any unintended "fuels." Obtaining the correct permit and/or abiding current restrictions ensure we don't show up to ruin the party.
Air quality conditions, and seasonal fire danger play a big role in outdoor burning. If you are unsure, call us before you burn. Our staff can direct you to the appropriate authority having jurisdiction over your burn whether big or small. Listed below are several links to explore, as well as an FAQ box for all your burning questions.
​
Urban Growth Boundary
Outdoor burning is not allowed within the urban growth boundary. To find out if you live in the UGA follow the link to our web map.
Are appliances reusable?
---
Latex appliances (with the exception of our foam prosthetics) are completely reusable. Wash with soap and water and store at room temperature for endless wears.
---
Why use water activated makeup?
---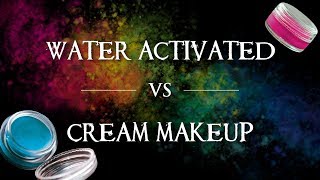 For a comparison of water activated and cream makeup, view the video to the right. Water activated makeup dries quickly and is smudge resistent, meaning it won't rub off! Provides bold and complete coverage with little effort. Acheive a sheer look with more water, meaning you have more options. Water activated can be applied to latex appliances. Unlike cream, water activated formulas can be layered or blended together. Easily remove water activated makeup with soap and water.
---
How do I apply latex appliances?
---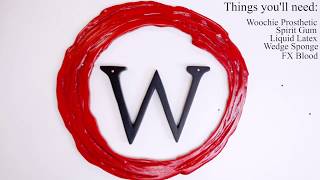 Using spirit gum, apply spirit gum to the back of the appliances and tack to skin by repeatedly placing the prosthetic on your skin, lifting, and replacing onto skin. Using a wedge sponge, apply liquid latex to the edges of the appliance. For injury appliances, use FX blood to achieve a bleeding effect.
---
How do I use Peel & Stick 3D Appliances?
---
It's simple! Just Peel the latex appliance off the backing paper and stick down to skin.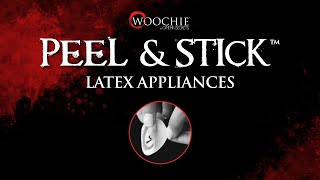 For added illusion, cover the edges of the appliance in liquid latex and/or blood!
---
---